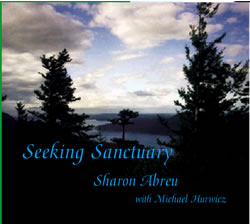 Click the CD cover above for descriptions
of the photos used on the CD.
Seeking Sanctuary
featuring Sharon Abreu

with Michael Hurwicz
11 songs to reach a place in each of us where we can heal ourselves and come together with love for community and caring for the Earth.
Proceeds benefit Irthlingz, nonprofit arts-based environmental education.
$15.00 per CD plus $2.50 shipping per order.
Free shipping for four or more CDs.